INFINIGLIDE 3
The ultra slim sliding door with a 20mm sightline and stunning finish that offers a seamless transition alongside high performance features.
Enjoy amazing views of the outside from the comfort of your own home with ultra slim frame sliding doors that invite the outdoors inside with an effortless transition. The InfiniGLIDE3 ® is manufactured on-site at our door manufacturing facility. Contact us for bespoke ultra slim doors.

InfiniGLIDE 3 is a registered trade mark of Arkay Windows Ltd, registered in the UK under trademark number no: UK00003550177 and UK00003550182.


Ultra Slim 20mm Interlock
Up to 2.5m x 3m per panel
Fully concealable frame
3 tracks and pocket door option
Fully openable and glass-to-glass corners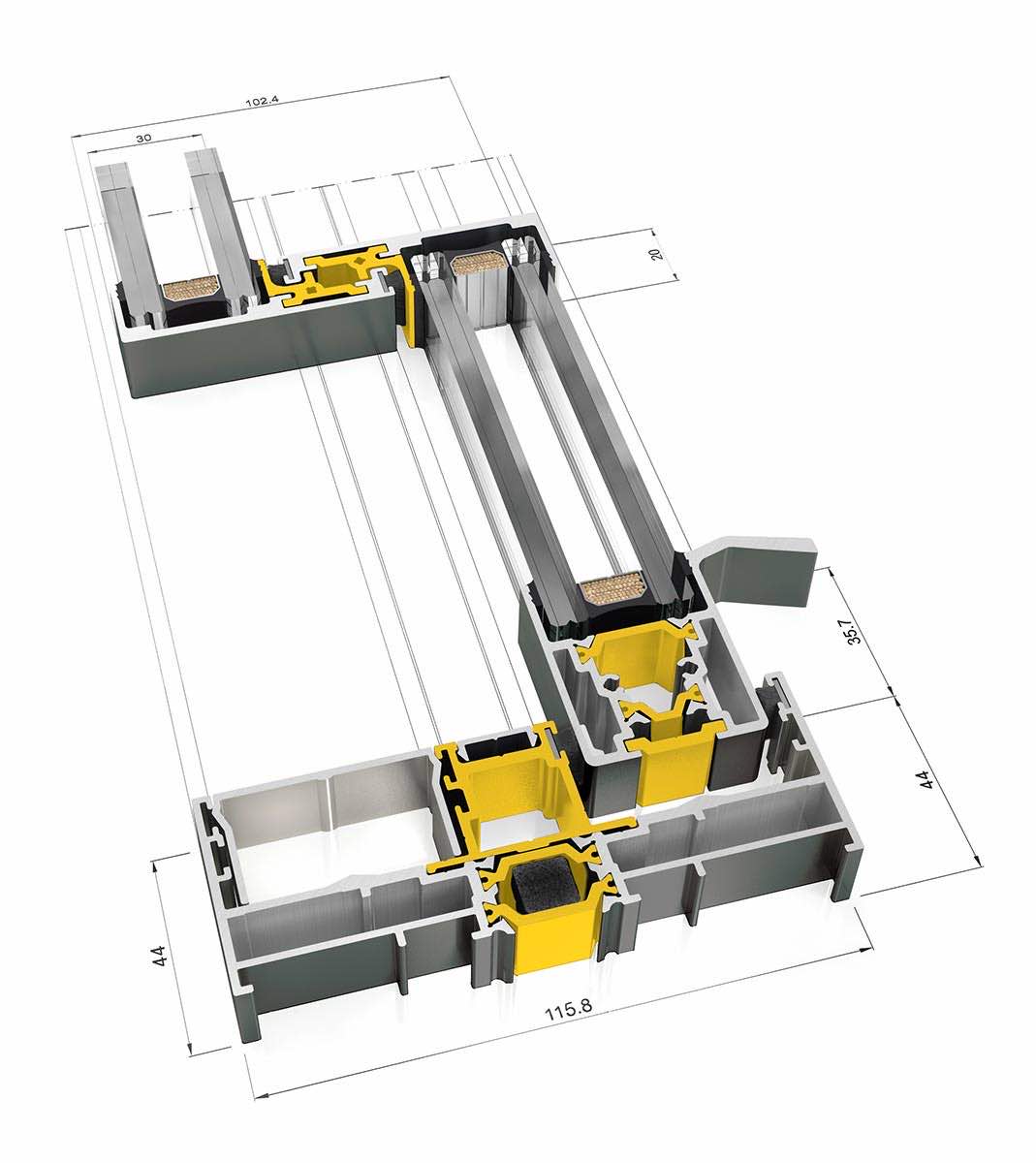 TECHNICAL SPECIFICATION
SPECIFICATION
THRESHOLD HEIGHT
44 mm
GLAZING THICKNESS
26-30 mm
GLAZING METHOD
Structurally bonded
MINIMUM SIGHTLINE
20 mm
FRAME DEPTH

1 RAIL

116 mm

2 RAIL

116 mm

3 RAIL

182 mm
PERFORMANCE
| | |
| --- | --- |
| U-VALUE | From 1.3 W/m²K |
| AIR PERMEABILITY | Class 4 |
| WATER TIGHTNESS | Class 7A |
| WIND RESISTANCE | Class C5 |
| MAXIMUM ACOUSTIC INSULATION | 41 dB Rw |
SIZE LIMITS
| | |
| --- | --- |
| MAXIMUM PANEL WIDTH | 2500 mm |
| MAXIMUM PANEL HEIGHT | 3000 mm |
| MAXIMUM PANEL WEIGHT | 320 kg |
Push the Boundaries
Click To Learn More
Ultra Slim Frame Sliding Doors
The InfiniGLIDE3® aluminium sliding doors are a unique product that is tailor made to your home. With an unlimited choice when it comes to the finishes and options for your glass doors, it is a flexible and versatile choice for any project type. With large glass sliding doors, you can transform the look of a space with minimalist appeal and slim sightlines.
If you want a solution that will bring natural sunlight into a space to give the illusion of spaciousness and to create a vibrant and warm atmosphere, paired with exceptional functionality, InfiniGLIDE3® ticks all of the boxes. You'll enjoy high quality sliding glass doors that look good and perform well.
Each of our aluminium glass sliding doors are tailored to the project in hand. Designed expertly with every intricate detail taken into consideration, the quality and perfect finish is apparent every time. With every project, there are a series of quality control checks carried out to make sure that every door meets the expected high standards.
With the InfiniGLIDE3®, there are a number of opening configurations available. Whether you want 1-6 sliding sashes or 1-3 rails, it's completely up to you and your project requirements. The slim frame is available in colour powder coating to complement the interior décor or a property, with a wood effect available for texture.
You can take a look around our show room with this clever virtual tour to see an array of samples and products we have on show. You can arrange to visit our showroom in person to take a look at the InfiniGLIDE3® in order to get an idea of the look, feel and functionality.
Take a look at our InfiniGLIDE3 ®video where you can see the product in use. The smooth operation and silent opening and closing is a key feature here. Our aluminium sliding doors create a seamless transition from inside to outside for residential and commercial properties.
Add Perfection
Click To Learn More
Why Choose InfiniGLIDE3® Aluminium Sliding Doors?
With a 20mm sightline, the InfiniGLIDE3® provides a virtually frameless sliding patio door that allows for panoramic views without obstruction. This is particularly beneficial when adding the doors into a property or building that has outstanding views whether urban or rural. The slim, stunning and contemporary design is a welcome focal point for any room.
The threshold height of 44mm means that our ultra slim sliding doors are suitable for accessibility, with a low threshold and floor to ceiling finish. This maximises the amount of light that enters the area as well as making the transition from the interior to the exterior simple and easy.
The glazing thickness of 26-30mm ensures a lightweight design and compact door solution whilst ensuring security and protection from the outside world. With a strong and resilient glazing system in place, the InfiniGLIDE3® is a smart solution for thermal efficiency and energy conservation.
Designed to be incredibly watertight, our sleek sliding doors are adept at keeping moisture out and warmth in. The InfiniGLIDE3® has a water tightness class of 7A, giving you complete peace of mind about the protection of the property as well as the performance of your sliding doors.
Take a look through our InfiniGLIDE3® brochures for technical specifications, sizes and performance information. Like what you see? Contact us today to start supplying the InfiniGLIDE3® system, or find your installer to get one of these for your home.
Tailor Made
Click To Learn More
Bespoke Aluminium Glass Sliding Doors
Our glass sliding doors offer a unique solution for any project that requires a virtually frameless door that is ultra slimline, elegant and seamless between interior and exterior. Although intricately designed with a delicate and refined appeal, the design and build of the InfiniGLIDE3® is inherently strong with structural integrity. Our glass doors are a durable and contemporary option with a number of features and benefits.
The InfiniGLIDE3® is a versatile and multi-purpose product, with the ability to separate internal living spaces or to be used as an external frameless glass door that opens up a space with transparency. With a minimal aesthetic, the slimline doors create a focal point that transforms a space whether they open up to a garden, balcony, decking area or patio.
Stepping between the inside and outside with ease, these modern sliding doors integrate the outside with the inside of a property, allowing the illusion of more space and enhancing a room with more natural light and vibrance.
Get a Quote Today
---
You can contact us today for a free quote for your bespoke sliding glass door needs. Whether you're looking for the InfiniGLIDE3® system or even want to opt for one of our
Schuco sliding doors
or
AluK patio doors
, we can assist. Simply visit our contact page and fill out our online contact form. A member of our expert team will be able to answer any questions you may have. We are happy to recommend or advise on the most suitable products for your needs and requirements.
Get My Quote
FAQs
Prices
Features
Creation
What is the cost of ultra slim sliding doors?
The cost of ultra slim sliding doors varies depending on your particular needs or requirements. Each product is unique to your needs and with a long list of specifications, sizing and customisation options your quote will need to be as bespoke as your project is. You can contact us today to discuss your project and we can advise on the best possible solution.
What features and benefits are there with InfiniGLIDE3®?
If you're looking for a sleek and elegant aesthetic, the InfiniGLIDE3® adds contemporary kerb appeal with slim line glass doors that offer unobstructed views and a seamless connection between the indoors and outdoors. Added to this, you will benefit from enhanced thermal efficiency, increased security and protection. The InfiniGLIDE3® is low maintenance, high performance and long-lasting making them an excellent option for home improvement projects, building projects as well as architectural plans.
How are the InfiniGLIDE3® glass sliding doors made?
Created with state of the art manufacturing and an intelligent design process, the InfiniGLIDE3® glass sliding doors are made with premium quality materials with a larger glazing to frame ratio for the ultimate end result. Each product is created with robust and resilient aluminium that is renowned for its strength and durability. Each material is selected for its specific properties which offer flexibility as well as structural integrity.