SCHÜCO ASS 50
Flood a space with increased natural light and unobstructed views of the outside.
Our thermally insulated aluminium SCHÜCO sliding patio doors with life-and-slide system successfully connects the outstanding qualities of a robust vent frame with a narrow face width for rooms flooded with natural light.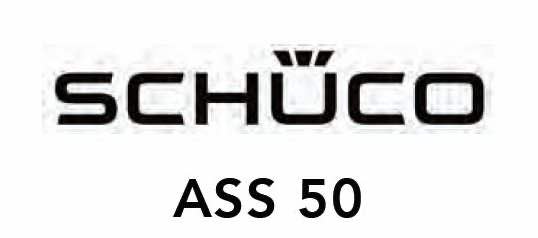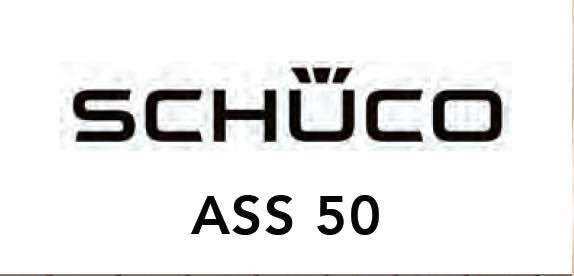 Water tightness up to class 9A
Single, double and triple track outer frames
Excellent sound insulation
Glazing thickness 8-32mm
Wide choice of colours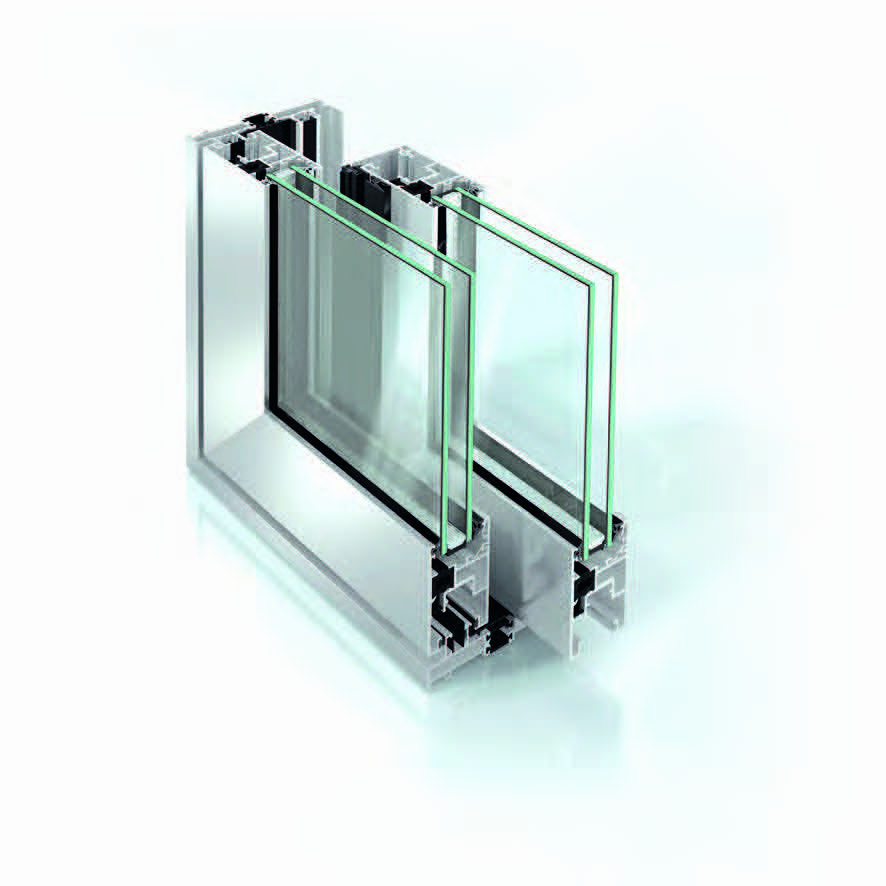 TECHNICAL SPECIFICATION
SPECIFICATION
| | |
| --- | --- |
| FRAME DEPTH | 120mm/185mm |
| GLAZING THICKNESS | 8mm – 32mm |
| GLAZING METHOD | Beaded |
| SECURITY | Class BC2 |
SIZE LIMITS
| | |
| --- | --- |
| MAXIMUM HEIGHT | 3000mm |
| MAXIMUM WIDTH | 3000mm Per Panel |
| MAXIMUM WEIGHT | 400kg Per Panel |
PERFORMANCE
| | |
| --- | --- |
| U-VALUE | From 1.6 W/m²K |
| AIR PERMEABILITY | Class 4 |
| WATER TIGHTNESS | Class 9A |
| WIND RESISTANCE | Class C4/B4 |
Ultra Slim
Click To Learn More
Sliding Patio Doors that Exude Luxury and Slim Sightlines
Our slimline sliding doors consist of a thermally insulated lift and slide construction with a high quality vent frame and narrow face width. The Schüco Sliding and Lift-and-Slide System ASS 50 offers brilliant thermal insulation and increased natural light which provides a light and airy environment.
With the fully concealed Schüco e-slide drive system, the floor-to-ceiling units can be opened, closed and locked easily with the touch of a button providing optimum security and complete peace of mind.
With generous and unimpeded smooth-running, they are easy to operate and create a simple way to access the outside of a property. They only require a minimum amount of space making them suitable for a range of project types and purposes.
The sliding leaves run on one level, which means there are no door leaves that open inward or outward making them a compact solution that doesn't require swing space. This results in a sleek and sophisticated aesthetic with high performance functionality.
Take a look around our showroom with our excellent virtual reality tour. We have a range of products and samples for you to preview. If you'd like to visit us in person, simply get in touch.
Take a look at how the Schüco ASS 50 sliding patio door operates on a smooth track with virtually no sound. We have a collection of videos for you to view of our different products that are available.
Push The Boundaries
Click To Learn More
No Limitations for your Sliding Patio Door Design
Our frameless sliding patio doors have an endless amount of customisation options where you can create a slim and sleek sliding door design that effortlessly blends with the surroundings of a property. The Schüco ASS 50 sliding patio door can be perfectly tailored to individual requirements using sash bars, glazing beds and stainless steel fittings.
The Schüco ASS 50 system is the ultimate solution for use in the housing sector and is a brilliant fit for luxury extensions such as conservatories and orangeries. They are also suitable for breath-taking views for hotels, the catering sector and office buildings. They offer a sophisticated and minimalist aesthetic paired with exceptional functionality.
The sliding patio door is effortless to use and provides a durable, long lasting result for any project type. Often selected for their ease of operation, thermal benefits and security values, the Schüco ASS 50 system is highly sought after and offers an exclusive, high end look and feel.
The Schüco ASS 50 sliding patio doors easily surpass other sliding patio doors currently available on the market due to the ability for them to be designed wider and higher than most traditional sliding doors. With the lift and slide mechanism they glide open with minimal force and at the touch of a finger.
You can find our brochures below which include technical specifications and information that you can download for offline use.
If you have any questions about any of our products or are looking for a new Schuco door supplier, please contact us today. Homeowners can also request a quote with us to find their nearest installer.
Enjoy Innovation
Click To Learn More
The Benefits of Selecting a Sliding Patio Door Design
Adding sleek sliding patio doors to your project such as the Schüco ASS 50 sliding door can open up a range of possibilities for both residential and commercial builds. Designed to perform well year after year, through all of the seasons, it is a durable and long-lasting profile that will provide satisfaction for time to come.
The Schüco ASS 50 sliding patio door is a statement of style and quality, with a design that is bound to impress. Offering unobstructed views whether closed or open, you can control the ventilation and maintain a regulated temperature inside that is comfortable and enjoyable.
At Arkay Windows we offer freedom and choice when it comes to installing sliding patio doors that seamlessly fit within the property or building they are being added to. With a range of different configurations, you can select from a range of sizes including larger glazing panels for the ultimate panoramic view.
Our Schüco ASS 50 sliding patio doors are available in a range of colours and finishes with hardware options to add the final touch. All of the sliding patio doors that we install add excellent thermal benefits with unrivalled levels of weather proofing and durability.
Get a Quote Today
---
You can contact us today for a free quote for your door needs today. Whether you're looking for the Schüco ASS 50 sliding patio door model to be implemented into a residential or commercial project, we can assist. Simply visit our contact page and fill out our online contact form. A member of our expert team will be able to answer any questions you may have. We are happy to recommend or advise on the most suitable products for your needs and requirements.
Get My Quote
FAQs
Natural Light
Tailor Made
Best Sliding Door
Will the Schüco ASS 50 sliding patio door allow increased natural light?
The sliding patio doors that we create are designed specifically to increase the natural light that enters a building or property so that it can benefit from the illusion of more space and so that it creates a warm and inviting ambience. The sliding patio doors work in the same way a window does, with the extra functionality of being able to exit or enter through them.
What elements of the Schüco ASS 50 sliding patio doors can I determine?
You can select the size and dimensions, colour and finish, opening configurations, hardware options and much more. There is a long list of customisation options for your sliding patios to be uniquely created for your project making them bespoke and individual to your needs.
What is the best sliding patio door on the market?

The Schüco ASS 50 sliding patio is the best on the market due to the ability to tailor them to your individual needs and project goals. They can be created higher and wider than most traditional sliding doors and come with excellent features and benefits such as increased thermal efficiency, security and more.