Popular Sliding Door Styles In The UK
Here at Arkay Windows, we offer our valued customers a wide variety of sliding doors. Our range consists of SCHÜCO's ASE 60, ASS 50, InfiniGLIDE 3® and 6, EdgeGLIDE®, ALUK's BSC94 and uPVC patio doors.

Sliding doors have continued to be a hallmark in modernist architecture despite being an arguably classic home improvement solution, providing its undeniable minimalistic aesthetic for decades. How have sliding doors sustained persistent popularity with homeowners even up until now? It could be argued that the popularity of sliding doors may be closely linked with their simple yet incredibly useful namesake feature: sliding.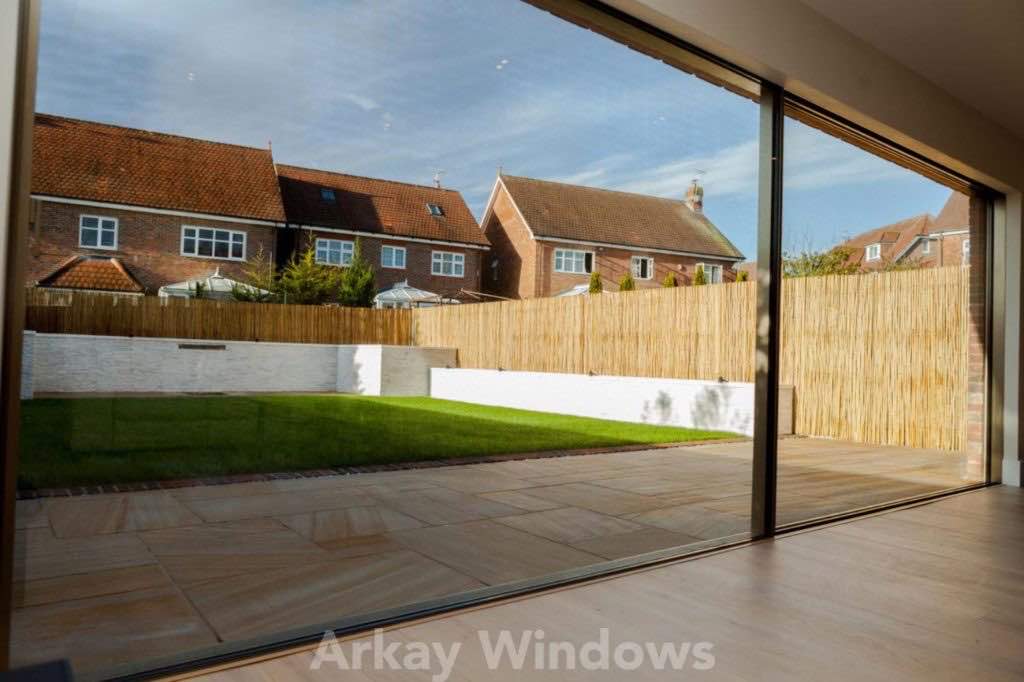 Sliding doors often sport large glass panels as their main body, providing completely unobstructed sightlines that subsequently allow for unprecedented influxes of natural sunlight. Illuminating the interior space of properties, making them look and feel bigger. Breathe life into your home without the cost or aid of electrical lamps or lights, allowing for total illumination at a minimal cost.

Thanks to the aforementioned sizable glass panels that are often a trademark design of sliding doors, they can provide peerless thermal performance. At Arkay Windows, many of our doors are available in double or triple glazing, allowing them to achieve U-values as low as 0.7 W/m²K. Our doors are also capable of providing unmatched style with equally unmatched energy efficiency.
They effectively trap the natural heat within your property, keeping your interior warm and cosy without the unnecessary need or cost of having to switch on your central heating. This allows homeowners to save money whilst still being able to enjoy a comfortable interior temperature, making our doors a worthwhile investment.

Despite their slimline appearance, sliding doors are incredibly durable home improvement solutions that are capable of enhancing your home security; establishing that style and function can go hand in hand. Thanks to the previously mentioned double and triple glazing available on our many doors, the glass panel on your door are effectively reinforced.
This means that your door can easily resist excessive force and prevents uncomfortable cold and hot air from seeping into your interior. Many of our doors have also achieved a PAS24 security accreditation. This is undoubtedly thanks to the security hardware we can fit onto our doors, such as our multi point locking systems.

Sliding doors don't just protect against human invaders; they are just as capable of keeping out the elements, achieving high performing weather resistance to ensure that your home remains steadfast against even the harshest conditions brought forth by the weather. Many of our sliding doors have achieved a Class 4, EN12207 in air permeability, a Class E900 in water tightness and a Class C5/B5 in wind resistance.
We also incorporate solar control, acoustic dampening, and self-cleaning at Arkay Windows within our toughened, laminated glass. Enjoy an incredibly stylish home improvement solution without ever having to worry about how it will handle heavy rainfall, strong winds or hail, as it has been specifically designed to prevail against any harsh weather.


Why are sliding doors so popular? Such a home improvement solution features an array of beneficial features that can directly improve the quality of life at home, including a timeless, minimalistic aesthetic, natural light, thermal proficiency, enhanced home security and weather resistance. A door with a seemingly simple feature can offer a property a wide variety of benefits that improve all aspects of a home.

To learn more about our range of sliding doors and how they can benefit you, why not contact us or try out our free quoting engine?