Are Sliding Doors Better than Normal Doors?
At Arkay Windows, we help you decide which of our sliding doors are best for you and your property. No matter what you choose, you will receive a completely bespoke service that is made to measure according to your needs and requirements. So, what are your sliding door options?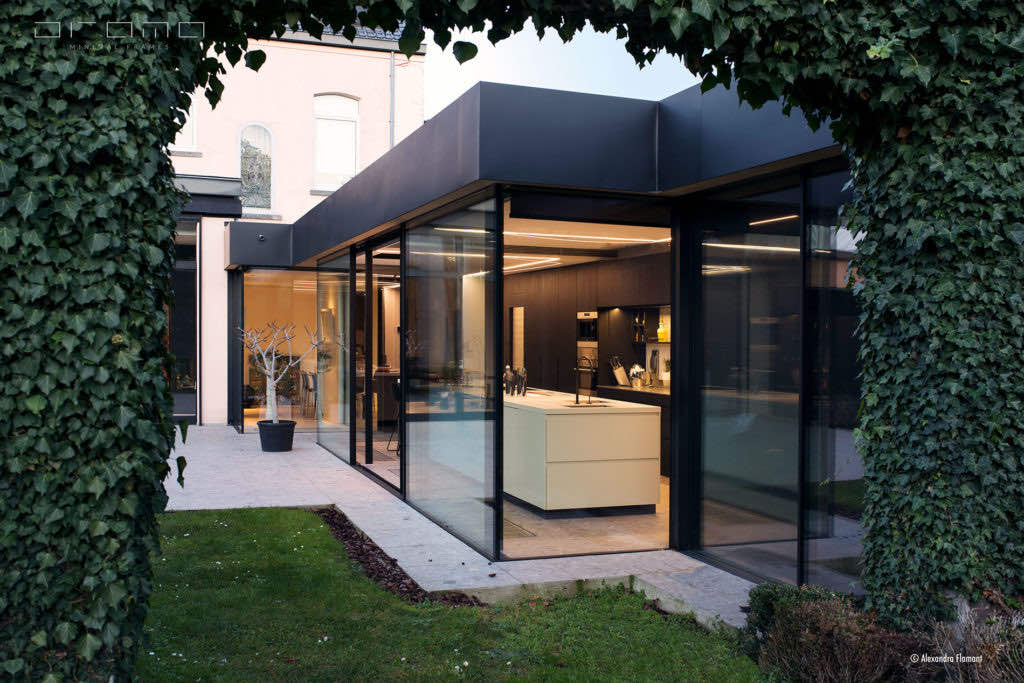 EdgeGLIDE +
Your new, premium sliding doors should be something you can trust and be proud of. The EdgeGLIDE+ is compliant with the upcoming Building Regulation Part L due to come into force in June 2022. Its Ultra Slim 35mm interlock provides your home with a stylish yet functional system that includes a thermal bridge, keeping your property at a comfortable temperature all year round. The clever thermal technology keeps the moisture out and retains heat internally. This way, you and your loved ones will be cosy – even through the unpredictable British weather.
The EdgeGLIDE+ sliding door has a consistent sleek and modern square look, with each panel being up to 2.2m x 2.6m and the frame depth being 70mm for easy replacement. Its stylish colours match the hardware easier to blend to your current décor and maintain a visual aesthetic throughout. With the EdgeGLIDE+, we want your home to feel inviting and spacious, so the transition from inside to outside is flawless with no added stress.
InfiniGLIDE 3
The ultra slim frame sliding doors invite the outdoors inside with an effortless transition. The InfiniGLIDE 3 is manufactured on site at our door manufacturing facility. You can have your sliding door completely bespoke to you and your home, with fully openable and glass to glass corners – ensuring that your solution is completely watertight with a glazing thickness of 26-30mm.
InfiniGLIDE's features are designed to bring in more natural lighting and separate internal living spaces whilst being used as either an external frameless glass door or integrating the inside and outside, allowing an illusion of a larger space enhancing a room with more vibrancy and lighting. You can have peace of mind that your home will be secure and protected with a fully concealable frame – no matter your current home design, we can integrate the style into your new sliding door.
InfiniGLIDE 6
With a minimalist appeal and slim sightlines, the perfect aluminium sliding door which blends perfectly into your interior design, the InfiniGLIDE 6 is the ideal solution for you. This model is recommended for new build developments as a completely frameless design due to its fully concealable frame and the ultra slim 24mm interlock. Suited to large scale glazing and new builds, we manufacture this sliding door to provide a system that blends into any property type and complements the interior and exterior. It's an innovative product that pushes the boundaries of slimline sliding doors and provides a smooth and silent result ideal for your new home.
ALUK BSC94
Our slimline aluminium sliding doors provide a versatile solution for any architectural project by combining high performance with stunning designs. Its outstanding thermal performance is ideal for any home that wants comfortable living conditions. Additionally, as a completely bespoke project, we offer this in many colours and finishes, so you can receive a product that blends in with your homes current style.
Suitable for residential and commercial projects, the ALUK BSC94 sliding door is available in singular and dual colours, with weather resistant coating to withstand the British weather. This project has many bespoke features, including its range of hardware and door styles, designed with modern fixtures and fittings. Certified by PAS24, this 20-31mm double glazing panel can withstand up to 400kg, leaving this model is suitable for a larger scale project – ideal for all homes!
SCHUCO ASS 50
Our thermally insulated aluminium SCHUCO ASS50 sliding doors provide a lift and slide system that successfully connects the incredible qualities of a robust vent frame with a narrow face width for rooms flooded with natural lighting. A wonderful benefit of this model is the water tightness feature, which goes up to class 9A – leaving the British weather no chance of seeping through. Additionally, the sliding door has the option for single, double or triple track outer frames, which helps build a great sound insulating barrier, so you and your loved ones can keep your privacy whilst removing the outside world from your home. With an extensive selection of colours available, you can provide a light and airy environment whilst bringing the natural light in, too – leaving your home bright, vibrant and welcoming.
SCHUCO ASE 60
Your home can be flooded with natural lighting with a lift and slide system successfully connected to the vent frame. The SCHUCO ASE 60 highlights incredible amounts of thermal insulation values and provides comprehensive design, openings, and comfort solutions. Available in double or triple glazing, the U-value of this model can reach 1.1 w/m2k!
Adding to this, with over 200 industry RL colours, you can explore a range of finishes that contributes to a durable and long-lasting sliding door. Ideal for conservatories, orangeries, hotels and office buildings, the sophistication and minimalist aesthetic provide your building with high quality and practical solutions.
So, are sliding doors better than normal doors? Here at Arkay Windows, we believe that our sliding doors can offer a wide variety of both stylish and practical benefits to any property, regardless of its pre-existing aesthetics or architecture. Enjoy an entirely modern home improvement solution that will transform any property it is installed upon.
You can begin your bespoke quotation by contacting us today or filling out our online contact form – discover more at Arkay Windows today!