Large Sliding Doors
Large sliding doors are easy to operate, extremely secure and versatile. Many are fitted with multi-point locking systems to provide the homeowner with a secure and protected solution. Additionally, extra features can be added to enhance these doors further – the possibilities for sliding doors are endless with Arkay Windows. So, what sliding doors do we offer? Let's find out!
At Arkay Windows, we give our valued customers a variety of large sliding door options: SCHÜCO's ASE 60, ASS 50, InfiniGLIDE 3® and 6, EdgeGLIDE®, ALUK's BSC94 and uPVC patio doors.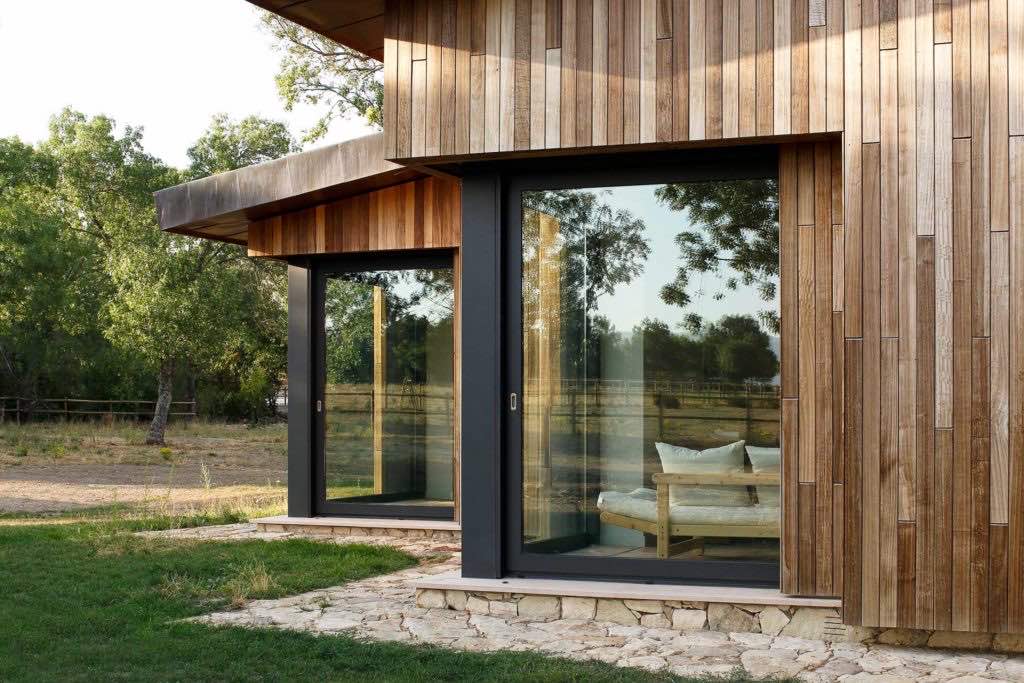 Large Sliding Doors: InfiniGLIDE 3
With its 20mm sightline and visually appealing finish, the InfiniGLIDE 3 is a great way to brighten up any residential or commercial property.
The InfiniGLIDE 3 sliding doors allow you to create various zones within your home; without shutting any rooms off completely – this is a wonderful advantage if you work from home and need to have privacy but still keep connected to your loved ones. Its main benefit, of course, is their space saving properties, which is why they are sometimes used for wardrobes and cupboards and a door due to their ease of movement and better ventilation. For door purposes, replacing your old doors with high quality and energy efficient sliding glass doors can offer you a long lasting, secure and stylistic solution.
Designed by experts, our customers will receive an aluminium glass door ideal for their home. Our replacement doors are stringently tested with every project to ensure that our projects exceed quality standards. Due to their security, durability and design, the InfiniGLIDE 3 sliding doors are a worthwhile and high quality investment for any home.
Making time to invest in one of our slimline sliding glass doors, you will have the option to adjust the appearance to coincide with the style of your property. Whether you want 1-6 sliding sashes or want 1-3 rails, you can tailor each of your doors to suit specific property requirements. Available in a range of sizes, finishes and sizes, our large sliding doors can be tailored to suit your personality and style.
Large Patio Sliding Doors: InfiniGLIDE 6
With a simple yet wonderful design, the InfiniGLIDE 6 sliding door will give you an interrupted view of your surroundings. The slim and sleek sightlines complement the glazed panels to provide an effortlessly classy design without compromising its functionality. Our large sliding doors have large glass panels as their main structure, which provides unobstructed sightlines, leading to unprecedented influxes and natural lighting. Our products will allow your home to appear larger, more spacious and more exciting, all without the added cost of electrical lamps and lighting! Your savings will illuminate your interior, making it appear more open, which is perfect for smaller properties needing that extra bit of room.
Our large aluminium sliding doors are designed to keep heat and moisture out. Doing so provides excellent thermal efficiency for any property! Our slimline sliding doors are an incredibly cost-effective solution and will ensure you with an exceptional performance whilst the U-value is kept as low as possible.
Due to the versatile design of our aluminium sliding doors, you can utilise them to separate spaces and rooms inside your property and create a visually pleasing entrance or exit. Our frameless glass sliding doors are crafted to smoothly open up on a single track, allowing easy access. Glazed doors provide excellent protection with added locking systems to enhance security further.
Large Glass Sliding Doors: Edge GLIDE
With a range of features and benefits, our sliding patio doors have unique thermal bridges that work to keep the moisture out and the heat in. This design makes the doors completely thermally efficient. It's a cost-effective solution that helps reduce energy consumption, energy bill costs, and central heating prices. Premium grade aluminium makes the slimline sliding doors robust, strong and durable – perfect for a long lasting performance.
Modernise any property to create an effortlessly stunning space that provides exceptional performance. We try to blend our designs with your current style throughout our sliding doors. The large glazed panels and minimal frames create a simple and inviting atmosphere – providing you with a high quality feel. One of the benefits of a large panel is their illusion of a bigger space, using them as a transparent wall to let the natural light flood in easier – brightening your home.
Additional Large Sliding Door Options
At Arkay, we also provide the following models:
ASE 60
ASS 50
BSC 94
uPVC patio doors
Many of our doors are available in double or triple glazing, allowing us to achieve low U-values. Despite their slimline appearance, sliding doors are a great home improvement solution capable of enhancing your home security.
You can help design and specify the most suitable situation for your project. Whether you are implementing this into a residential property or easy access to the outdoors or installing large sliding doors into a commercial property, our models are adaptable and versatile. Our doors can be bespoke to your needs and requirements with multiple configurations.
Our doors are available in various panel sizes. This means they are all suitable for a range of project types, whether you require a small opening or something larger to accommodate more traffic or larger widths. They are available with a standard ratio of around 85mm or 45mm (depending on your preference – this number can change due to your project type). For more information to get a more accurate number, contact a member of our team today!
Get a Quote
At Arkay, we want to provide you with a solution that you can trust. For more information on any of the mentioned large sliding doors, contact a member of our team, and we can get you a quick quote, then discuss your ideas further. Visit our contact page and fill out our online contact form – we are happy to recommend or advise on the most suitable products for your home.