Popular Bifold Door Styles
What are the best and most popular bifold doors available in the UK?
If you want to add bifold doors to your home, getting the right design can help you make the best possible investment. While all bifold doors are similar, with a multi-panelled layout and folding opening, some have crucial differences. By choosing a market leader over a door that lags behind the competition, you can dramatically improve your home's performance.
At Arkay, we can help by offering exquisite bifold door styles from the best profiles around. We can supply the Schuco ASS 70 FD / FD HD range of bifold doors, AluK's Luminia F82 and BSF70 bifold doors, and the UniFOLD® / UniFOLD+® series of bifold door styles for your home. We're also a trade partner and work with clients in retail, contractors and commercial installers.
So, at Arkay, we want to help you decide which of our bifold door styles is best for you. And, whatever you choose, you'll get an excellent service. We make our products to your order, meaning they'll be ready for you as soon as possible. Not only that, they'll be made-to-measure and fully bespoke according to your specifications.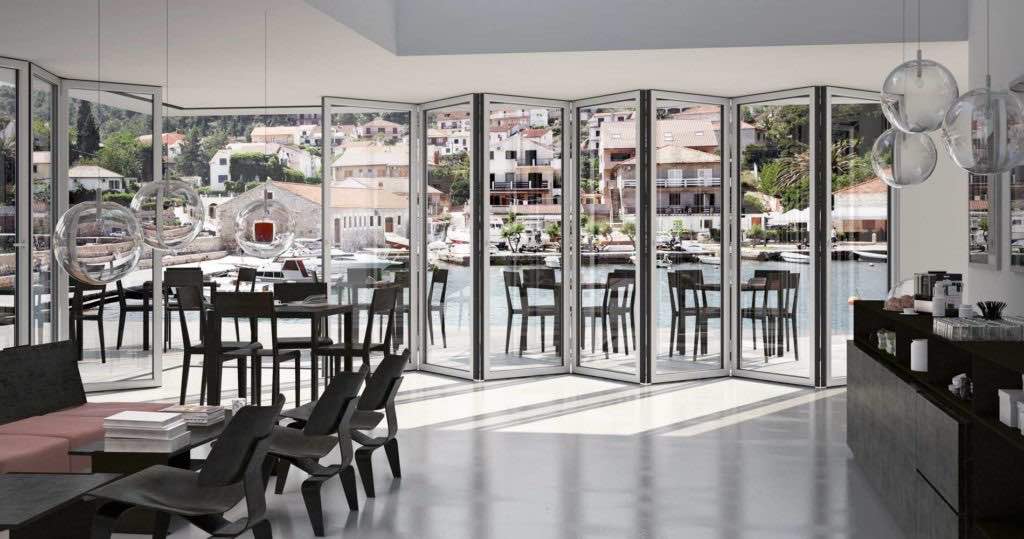 Schuco Bifold Door Styles
At Arkay, we offer the new ASS 70 FD and FD HD variants of bifold door styles from Schuco. Schuco is an industry-leading manufacturer, and they always make their doors with quality in mind. Because of this, their new bifold door styles lead the way for comfort, efficiency and quality. You'll be investing in a design that can help you improve the insulation in your home and saves money on your bills.
Schuco's bifold door styles have thermally insulated double glazing panels, meaning better insulation during the winter. Not only that, you can reflect heat away from your home in summer, keeping you and your family in the cool. Additionally, these bifold door styles can feature a flat threshold. As a result, they'll be more accessible for those with wheelchairs and pushchairs.
You can also invest in the ASS 70 FD HD bifold door style for your home. HD is another leap forward from Schuco and offers a slimmer design with wider glass panels. Along with a flat threshold, these doors offer outstanding views of nature when they're closed and a seamless entrance to it when open. Because of this, these doors will benefit your home every day.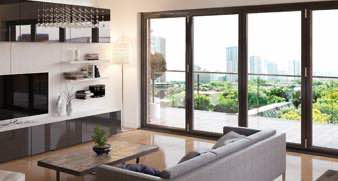 AluK Bifold Door Styles
We also work with AluK to offer some of their bifold door styles for your home. AluK is an aluminium fabricator of the highest order, creating durable profiles that stand the test of time. Aluminium is a precious metal, meaning it has more strength than materials like uPVC. Not only that, it has a metallic sheen that makes it ideal for bold colours to shine off the surface.
We supply AluK's Luminia F82 series of bifold door styles for your home. With thin sightlines and an interlock of 122mm, these doors have large glazing panels without exposing you to the elements. Additionally, AluK's doors operate on HD compact slim stainless steel rollers as standard. As a result, these doors move smoothly across their in-line slider for decades to come.
You can also invest in AluK's highly versatile BSF70 bifold door styles. BSF70 is a highly versatile design, and it's fully customisable to you with Arkay. We can work with you to create doors with the right number of panels, the perfect colour and the option of a unique flush line pop-out handle. So, with Arkay, you can get bespoke bifold door styles with ease.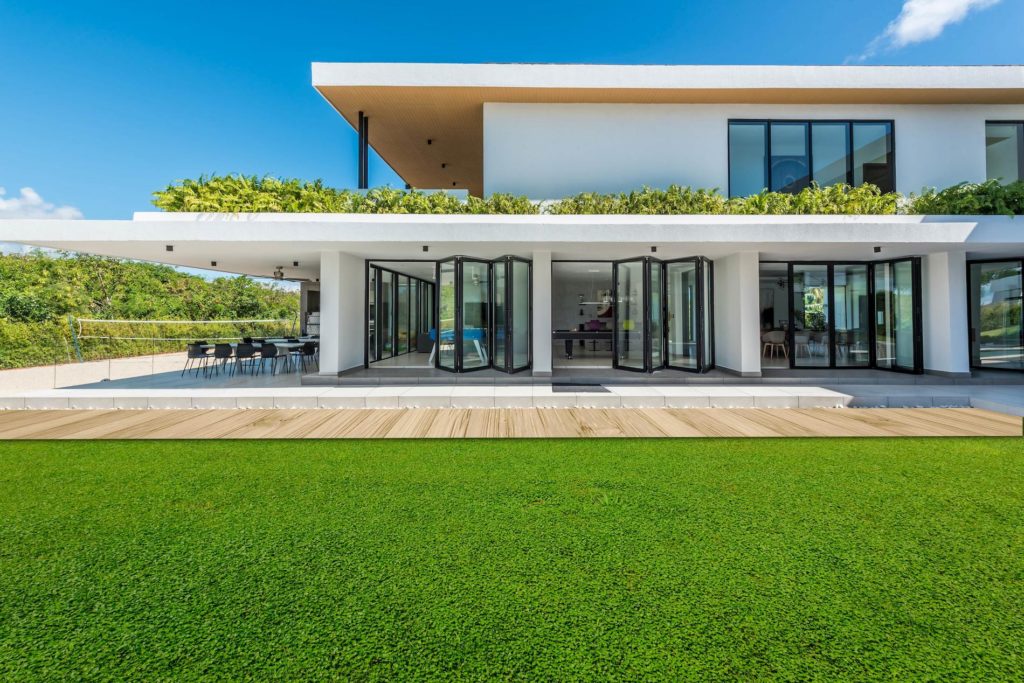 UniFOLD Bifold Door Styles
Finally, we can offer UniFOLD® bifold door styles for your home or commercial project. UniFOLD® doors have a stunning, sleek look, with a 120mm glass-to-glass sightline. However, while these doors can open your home up to nature, these bifold doors will also protect you from the world around you. It's because UniFOLD® doors are highly secure, containing a range of security features to keep you safe.
You can benefit from multi-point locking in each double glazing panel, meaning intruders won't be able to separate the glass from the frame. Not only that, the durable profiles are weatherproof, meaning the locks won't rust or wear down. UniFOLD® bifold door styles have PAS24-tested hardware.
UniFOLD® and UniFOLD+® bifold door styles are also affordable. With Arkay, you can get them for less than you might think, and you can customise the design to stay in control of the budget. With the outward and inward opening, panel configurations and colour options all to choose from, you can create the door of your dreams for less. Choose Arkay for bifold door styles you'll love today!
Bifold Door Styles Prices
At Arkay, we've been supplying some of the most popular bifold door styles for decades. As a result, we're a company you can trust for competitive prices and reliable service.
You can either request a quote or contact us today to find out how much you could save on our bifold door styles.