NEW EdgeGLIDE+® External Sliding Doors From Arkay Windows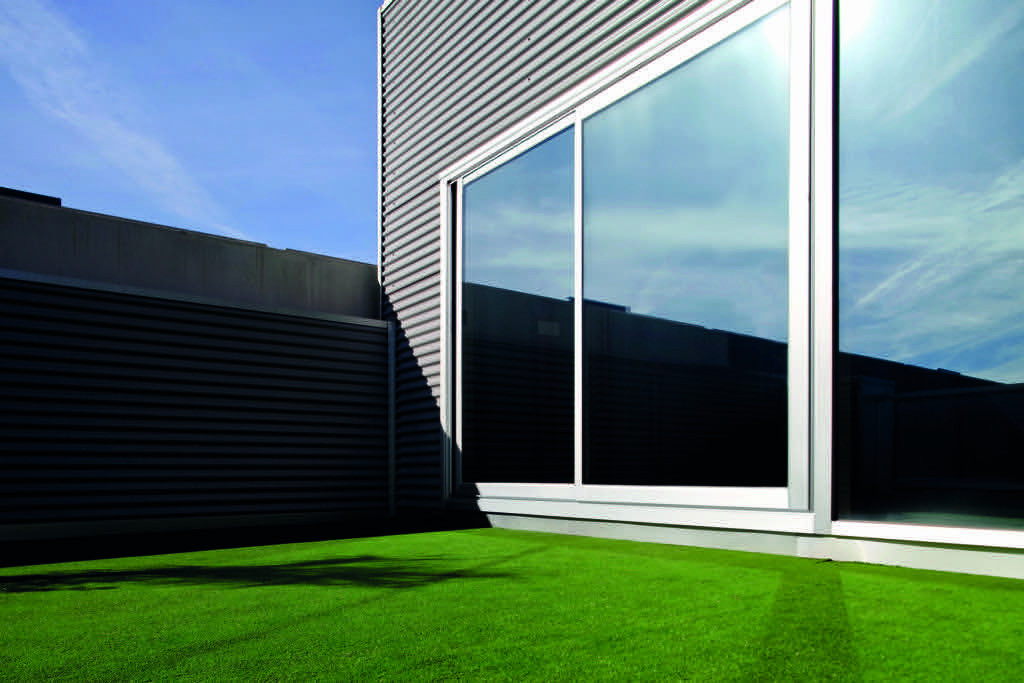 At Arkay Windows, we are delighted to supply the brand new EdgeGLIDE+® sliding door, readily available for homeowners and the trade across the UK. We are beyond proud to offer this fantastic home improvement solution that stands among the best within the market. At Arkay Windows, we have been manufacturing doors on a large scale for over 45 years, producing and supplying high quality doors for all types of properties. The edge glide external sliding door is a product that meets and exceeds all expectations.
Sleek and Slim Design
Our EdgeGLIDE+® sliding door proves itself as an incredibly slim and sleek addition to any type of property. With a frame depth of 70mm for easy door replacement and a glazing thickness of 14-36mm for both double or triple-glazed options, homeowners can enjoy a modernist aesthetic delivered by our sliding door as it effortlessly provides a protective barrier without compromising on its astounding contemporary style. Open and close your brand new edge glide sliding door with absolute ease, allowing for peerless levels of sunlight illuminating your interior, making your home look and feel bigger.
Our edge glide sliding door can also sport an incredibly expansive sightline, with a maximum panel width of 2200mm and a maximum panel height of 2600mm. This allows for truly panoramic views of the great outdoors, be it your back garden, the nearby flora or perhaps you want to witness the weather from the comfort of your home. Whatever your choice, our sliding doors are able to provide a breath-taking view with zero interruptions or limits.
Transformative Performance
Our EdgeGLIDE+® sliding doors doesn't just look good either; they are capable of transforming any property with their incredible practical benefits. Expertly engineered, our design utilises a versatile system with a thermal bridge. This means that homeowners are able to enjoy unrivalled levels of thermal efficiency. Through its innovative design, the EdgeGLIDE+® sliding door is able to prevent structurally damaging moisture and dampness, ensuring that your property remains dry and undamaged. Our sliding door has been designed with the natural elements in mind. We have effectively weatherproofed the edge glide external sliding door, achieving class 3 in air permeability, class C5 in wind resistance and class 7A in water tightness.
We keep the weather out and the warm air in. This is achieved thanks to our incredibly thermally efficient design. As mentioned prior, we utilise a thermal bridge within our EdgeGLIDE+® sliding door in order to trap and retain the natural warm air typically found within any property. This is then reflected back into the interior, ensuring that homeowners can enjoy a consistently warm indoor temperature without the need or cost of their central heating. Our EdgeGLIDE+® sliding door's thermal performance is so effective that it produces U-values as low as 1.2 W/m²K.
The EdgeGLIDE+® is already compliant with the upcoming Building Regulation updates to Approved Document L that are due to come into force in June 2022.
Stylish and Secure
Our EdgeGLIDE+® external sliding door offers reliable home security without compromising its style or performance. Through the utilisation of our incredibly durable glazing, our sliding doors are able to protect homes against the very worst of the British weather. Capable of circumventing structural damage by eliminating any possibilities of water seepage and damp air entering your interior, effectively weatherproofing your property.
Through its robust frame, our edge glide external sliding door is capable of withstanding excessive physical force. This means that homeowners and their loved ones can have peace of mind as any attempted home invasions will be swiftly halted by the immense durability imposed by our sliding doors. Rest easy knowing that our EdgeGLIDE+® sliding door is keeping you safe and elevating your home security.
Our EdgeGLIDE+® sliding door offers the very best in all possible aspects. From its undeniable sleek design, to it's thermally insulated frames and inbuilt home security, this triple track sliding door will continue to perform highly for years to come. Transform any property with this incredible external sliding door. To learn more about our EdgeGLIDE+® sliding door, simply use our online contact form or request a quote today!