What's the Best Bifolding Door?
What's the best bifolding door?
Here at Arkay Windows, we offer a wide range of doors, including high quality bifold doors. As such, it can often be difficult for both homeowners and trade partners to decide which bifold door is the best.
That is why below we will be discussing our variety of bifold doors in detail, deciding which one is the best by exploring their many features, aesthetics and benefits. Read below to find out what is the best bifolding door.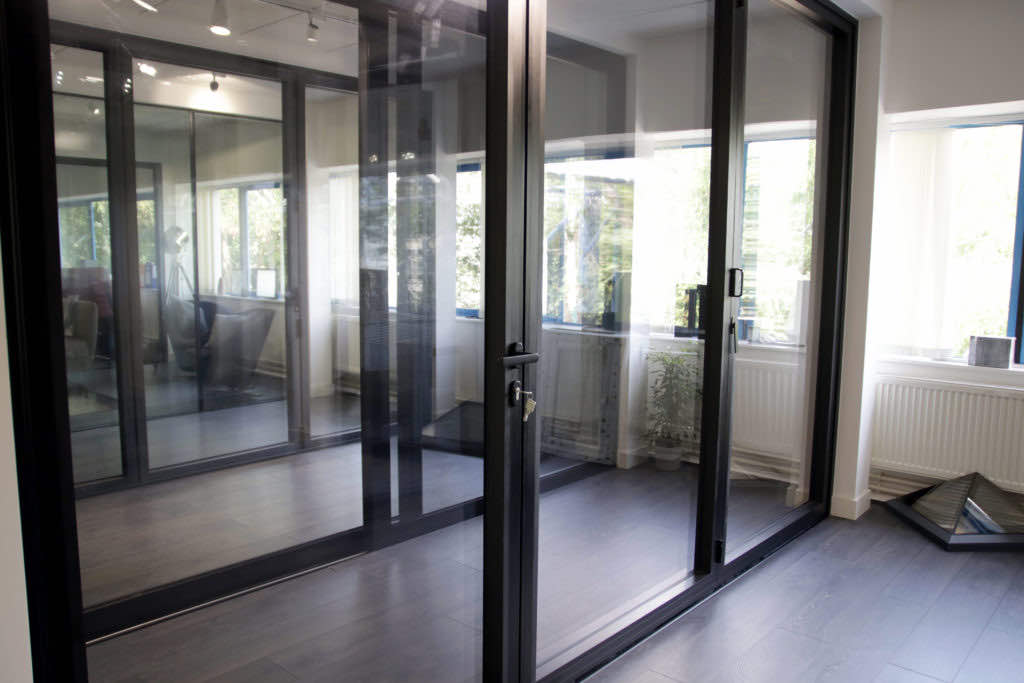 What are internal bifold doors? Internal bifold doors are simply folding doors that are built and designed for the interior. Whereas many door styles are made with the patio, back garden and general outdoors in mind, internal doors are created with the sole purpose of revitalising the indoors of your property.
Instead of wasting space with regular indoor doors, internal bifold doors can fold up neatly, giving your interior more room and freedom. Open up your hallway, kitchen, living room or dining room with this undeniably sleek and aesthetically pleasing property piece. Transform a once tight space into a wide open area that offers complete freedom.
Internal bifold doors offer the unique perk of requiring next to no maintenance compared to many other external bifold doors. Whereas many other doors must face the degrading weather, often suffering from the harsh conditions outside. Internal doors remain in the comfort and safety of your home, completely circumventing any negative weathering, allowing for a significant lifespan. Enjoy a door that will last.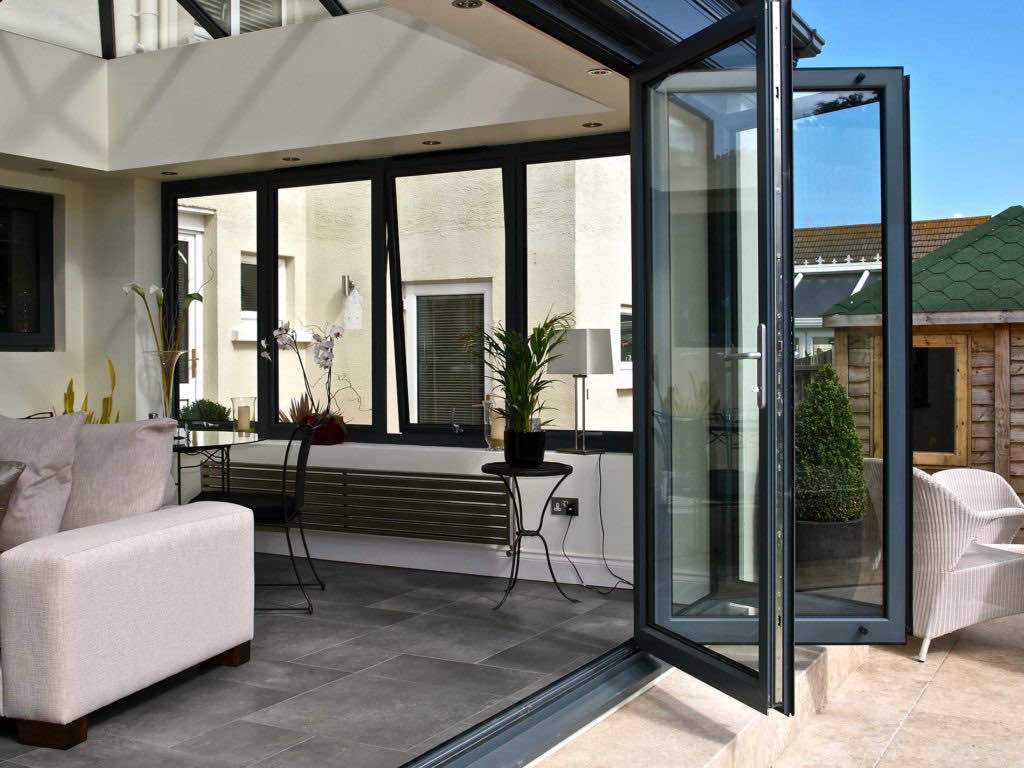 Bifold patio doors are a hallmark of any contemporary property. Enhance the entrance and exit of your back garden, patio and outdoors with our bifold patio doors. A classic property piece that continues to exude unmatched modernity thanks to its slim profile. With vast sightlines and its iconic ability to fold up, you can save space for a completely seamless entrance and exit.
Despite its appearance, our patio doors are exceptionally secure. Many are Secured by Design tested and accredited, sporting a multi-point locking system, and are available in double and triple glazing, effectively reinforcing the glass profile. Increase the security of your home whilst simultaneously increasing the style and aesthetics too.
Patio doors offer unrivalled style; this is because we offer flexible customisation options to allow homeowners to create a patio door that is completely bespoke to them. Colour match your hardware to your folding door, creating a seamless addition, whilst making your useful hardware subtle and hidden. We also offer all RAL colours, available in single or dual configurations, allowing for limitless customisation options.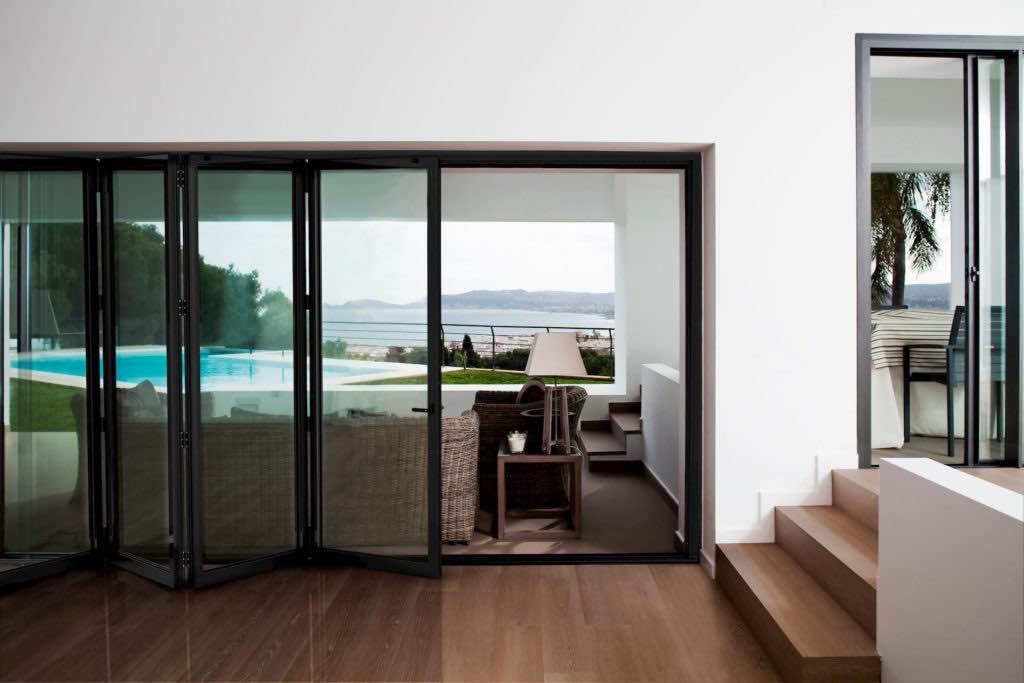 Aluminium bifold doors bring all you know and love with folding doors with the added benefits of an aluminium profile. Enjoy larger glazing panels and a more resilient frame. Aluminium doors use their namesake metal to an incredible extent, providing peerless performance, security and style. Thanks to aluminium being an incredibly durable yet lightweight metal, our doors can retain their light and slim profile whilst still possessing impressive durability.
Enjoy an influx of natural light, as our 122mm sightlines allow the sun to shine through, gleaming into your interior. Light up your property without the need for electrical lights. Our aluminium doors are also able to provide unrivalled ventilation. Breathe life into your house as you open your folding doors all the way, allowing the full extent of the fresh air to enter inside. Revitalise your interior with natural sunlight and fresh air.
Our aluminium bifold doors also account for excessive usage. Standard fitted with HD compact rollers; your folding door will gracefully slide without any interruption or needless exertion. Our aluminium doors have been designed with continuous opening and closing in mind, meaning you can expect your door to open and close like new for many years to come.
What's the best bifolding door? There are a lot of competing bifold doors that could rightfully claim to be the best. Internal doors are an incredible property piece for homeowners looking to add flair and performance to their interior. Patio doors instil a modern and minimalistic aesthetic to any home it graces. Aluminium doors focus on delivering performance and style without compromising either. But what is the best bifolding door? In our opinion, this comes down to the homeowner's unique preferences, their property and what they specifically want out of a bifold door.
To find out more about our range of doors, why not contact us? Or you can try for a free online quote.