What are Bifold Doors?
Bifold doors define as a door that slides open. They are usually made from a series of panels that fold up against the wall. These door types are a relatively common way to make the most out of the space in your home. Bifold and sliding doors are usually classified as the same thing, although there is a difference. Sliding doors do not fold – they slide back over each other on rails with some moving panels. However, bifold doors have runners that slide through guides which keep the panels straight and aligned correctly.
With the ability to pull open from the centre, you can get a full view of your garden in one swift motion. Bifold doors can be installed on the inside or outside of your property so that you can create the illusion of a larger room – perfect for smaller and busy households. They are entirely flexible and have no better alternative to a home that requires a spacious, bright and airy living area.
How Do Bifold Doors Work?
Bifold doors work on a concertina principle: folding back panels made of hinged frames and glass. Unlike standardised hinges on other door styles, bifold doors have panels that slide on runners on the floor and the upper beam or lintel of a doorway. These panels fold and slide simultaneously without restricting the size of the entrance. With these versatile bifold doors, you can make the most out of your living space.
Some bifold doors can be designed with one door opening in a conventional swinging motion (only one component in the bifold door). With this added feature, you can instantly increase the functionality of the product and add convenience to the design – creating quick access without having to fold back all the leaves each time you want the door to open.

What are the Main Benefits of Bifold Doors?
Whilst adding more value to your home, bifold doors can enhance the ambience of your property whilst providing space saving abilities. Bifold doors usually open outside, but they are used for entrances to conservatories. They can create an open planned effect, especially in case of any external installations which bring the outdoors into your home..
The materials that are included within bifold doors provide flexibility. Homeowners can specify how they want their bifold doors to split and stack when opening the door. Having a bespoke design can let you open the door outwards, inwards, folding to the left or right – the width of the panels can change to suit the desired space. Aluminium within the bifold door frames allows for a higher quality design. Finish and colour – giving you the perfect personalised look than other door styles.
The amount of natural light they can bring to your home is unrivalled. Aside from the practical benefits that they provide, they are glazed with large glass panels and can reveal the expanse of your garden and outdoor space. You can have a unique and bright entrance/exit to your property, all with one simple home improvement solution.
For smaller properties and flats, you may be restricted to the amount of space you can use for a new door. Whereas bifold doors are the perfect solution, and in fact, they provide you with the illusion of more space and extra room for your furniture.
The security of your home is truly important; this is why bifold doors are one of the most secure external doors on the market. Make sure that you invest in a door with strong frames and the material used is durable and strengthening. Having a decent locking system in place is also a feature that some bifold door models have installed as standard – you can find these on our Arkay Windows website.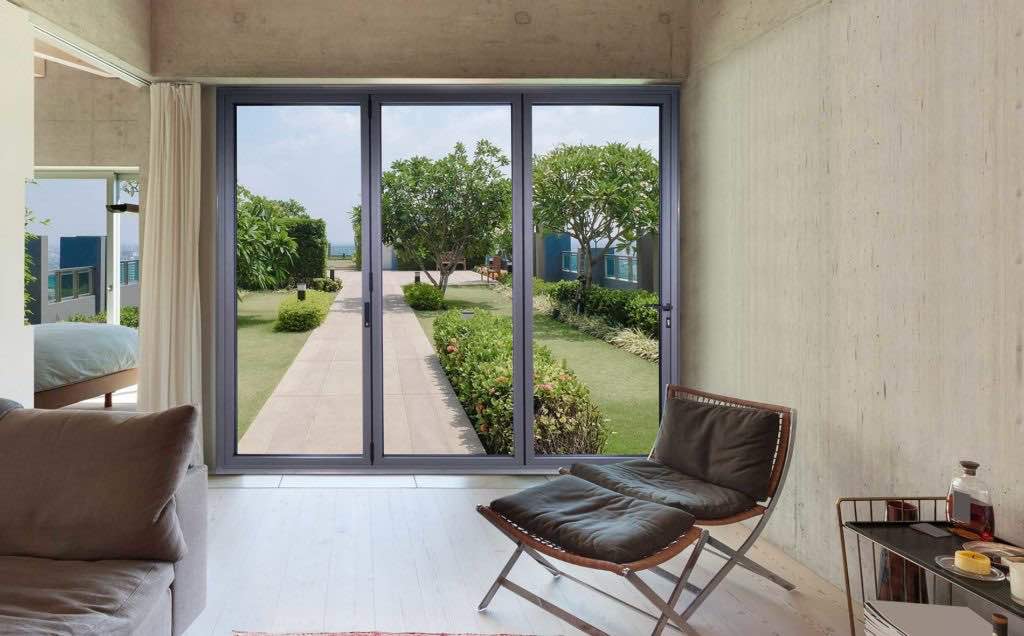 Your Bifold Doors from Arkay Windows
Here at Arkay Windows, we offer four bifold door types: Unifold/Unifold +, ALUK BSF70, ALUK Luminia F82 and the SCHUCO ASS 70 FD/FD HD. Each bifold door presents various benefits and individual features, ideal for all property styles and designs. We ensure that all our products cater for each of our valued customers and their requirements – whatever you need, Arkay Windows will be there to support your process and your unique journey.
Get in touch today for more details and find your local bifold door Arkay Installer or ask about trade prices. Begin your Arkay Windows journey today by contacting us or filling out our online contact form – what can your home achieve?